Discover more from GOOD INTERNET
A magazine about human machine relations, AI and tech, entertainment, arts and culture, and the psychology of social media.
Over 2,000 subscribers
Acid Tabs and ABBA Trauma
Goodlinks 2023-11-10: Lost Love Letters / Harry Potter but in Berlin / Bullshit Blind Spots / The Post-Viral Vapor Web / Platikmans Sheet One / Kevin Bacon dances ending actors strike and much more.
ABBA \m/
Bruce Dickinson To Star In ABBA-Tribute Band Horror Movie Bjorn Of The Dead and this info bit, for some cosmic reasons i don't understand, will not be the last time you hear from Björn from ABBA in this newsletter.
However:
The Iron Maiden singer has signed on to star in Bjorn of the Dead, which centers around an ABBA tribute band who find themselves, along with various other tribute acts, trapped in a nightclub at the start of the apocalypse. Bjorn and his band must work together to save themselves, humanity, and the future of music.
I have to explain why this is poised to be an important and personal extremely relevant movie to me. First, i love Iron Maiden and i just recently relistened to all of their studio albums in chronological order, including the bad ones.
Then, i suffered from and overcame a traumatic event involving ABBA, and it goes like this:
I was sixteen years old and worked as a cashier in a supermarket. And my boss, of all places, put me in charge of a special sales spot for music. I couldn't believe my luck, i was actually working in something like a record store, of sorts. Even if i only sold shitty cheap compilation albums and Best Ofs, i still was selling music.
Then, my boss had a fantastic idea: There's gonna be a VCR and a TV set playing ABBAs Best Of -- all day long, only ABBA, for four weeks. After a few hours on the first day i asked him if we could switch tapes to play something else because ABBA was becoming slightly annoying. Nope. He insisted to play ABBA because he didn't want to waste another VHS tape just because his employee was annoyed by a band.
Well. After a week, i dreamed about ABBA. When i was done with that summer job, i knew all ABBA songs in and out. The Dancing Queens were haunting me and if somebody only mentioned the words Money Money Money or Gimme Gimme Gimme — btw check out the support options for this blog, none of them involve bad music from the 70s i swear —, i'd crawl under a sofa and start crying.
From that time on, i hated that band with a white glowing, hot as the sun, righteous wrath, and never ever listened to them again. With 12 i thought i'd hate Modern Talking, a band so bad that it defies description and which's records i actually burned. But boy was i young, and i knew nothing about hating a shitty band. This summer job resulted in a fully fledged ABBA trauma.
ABBA is my personal Waterloo in pop music and only recently I overcame this eternal hatred, downloaded an album and gave them a shot. And while i don't grow extra limbs from listening anymore and The Visitors actually is a good song, i have to admit that overall, they are still terrible.
So, Bruce Dickinson from Iron Maiden starring in a movie about an ABBA tribute band fighting the apocalypse and save music, is, for me, a must watch, not only because "the film will have various cameos from the world of rock and heavy metal", but also because for me this is about, you know: healing.
However, here's more Stable Diffusion imagining ABBA as Iron Maiden: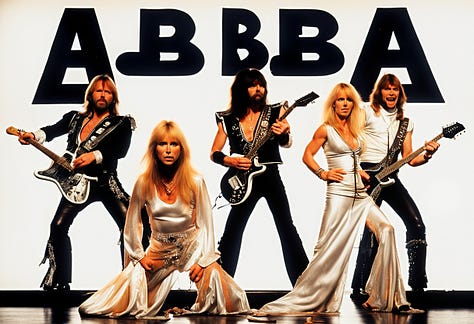 ---
GOOD INTERNET is a reader supported online mag. If you like what i do here, you can support this thing by upgrading your subscription to a paid plan or use one of the other support options you can find at the bottom of this issue.
---
Links
I love the plotter prints by TARGZ and their geometrical parallel line patterns resulting in beautiful moiré-effects.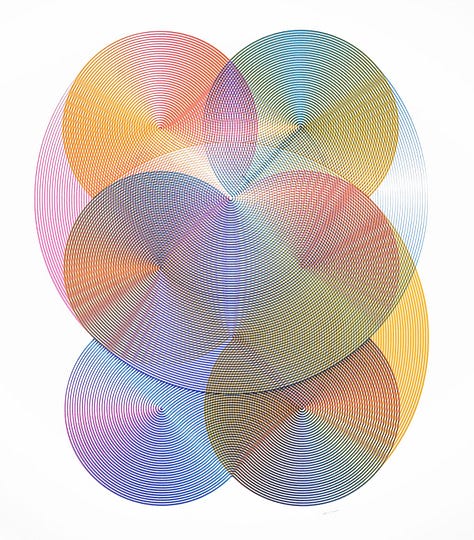 The Bismuth Crystal Puzzle "inspired by the remarkable geometric patterns found in bismuth crystals. Each puzzle is uniquely generated through a computer simulation, mimicking natural variations in shape and design. It features a new cut style we're calling Matrix, a geometric cut reflecting the puzzle's crystalline nature."
So, speaking of Björn Ulvaeus from ABBA - the guy wrote an article in the Financial Times about AI and copyright: Take a chance on AI — but protect the musicians. He's for copyright for prompted AI-art and wants participants to datasets to be compensated.
Cabel Sasser has "snapping up copies of a certain gadget catalog, one by one, when they're up for auction" and then scanned all of them: DAK and the Golden Age of Gadget Catalogs. If you like to goggle at obscure retrotech and 70s graphic design, this is your link.
Tessa Coates is losing her mind because her iPhone shot a photo of her standing in front of two mirrors with different body positions. Most likely, this stems from an internal algorithm used for difficult lighting situations which stitches together the final photo from the "best" parts, or it's just the common portals to parallel universes, who knows.
'ChatGPT detector' catches AI-generated papers with unprecedented accuracy: AI detectors are getting somewhat reliable, at least for academic papers.
Striking Actors and Hollywood Studios Agree to a Deal, unions members still have to approve. The article mentions no details about AI, which was a major discussion point in the latest negotiations, and i guess this bit from the Hollywood Reporter confirms that actors receive protections from exploitation through deepfakes and mimetic AI: "the AI protections remain something that we are constantly going to have to monitor and fight for the level of protections whereby our members will not be duplicated or synthesized in any way without consent and compensation".
AI negotiates legal contract without humans involved for first time: This stuff is where it's at, highly specific AI-models negotiating legal language. Law is code, after all. Ofcourse, "legal autopilot", as they phrase it, also is a nightmare scenario and this is why we nead harsh AI regulations, especially for these cases.
A new paper is proposing a Multinational AGI Consortium (MAGIC) for international coordination on AI. This will happen, and AI negotiating legal language will play a huge part in it. Here's an explainer-thread by Andrea Miotti on TwiX.
Chatbots May 'Hallucinate' More Often Than Many Realize: "When summarizing facts, ChatGPT technology makes things up about 3 percent of the time". When i fed my yesterdays post about 2023 being very probably pretty surely the hottest Year ever to Perplexity, it said that i briefly discuss AI and deepfakes in there, which, no, nope, i didn't.
Cornell Law's IP scholar James Grimmelmann weighs in on AI and copyright with article titled Talkin' 'Bout AI Generation: Copyright and the Generative-AI Supply Chain. It's a PDF of whopping 130 pages which i totally absolutely did not read through, but the gist is that, well, it's complicated and there are no definitive answers. What seems obvious to them, however, that models can infringe copyright at multiple points in what they call the "Generative AI supply chain". The only things that's really clear to me is that the copyright question regarding AI will stay with us for the foreseeable future.
Andreessen Horowitz would like everyone to stop talking about AI's copyright issues, please. This sucker just made the best case pro copyright when it comes to AI.
AI Has a Hotness Problem: The averaging of datasets and the tendency of datasets contents to represent photoshopped and glamorous shots make AI-humans hot.
AI-generated faces look just like real ones, but evidence shows your brain can tell the difference and this article also delivers a nice scientific explanation of the uncanny valley: "The results from the EEG test showed that brain activity differed when people were looking at real versus synthetic faces (…) This N170 component of the electrical signal, as it's known, is sensitive to the configuration of faces (that is, the layout and distances between facial features) (…) These results suggest there is a distinction between how we behave and what our brains 'know'."
And it's this difference which we call uncanny valley, the "unsettling feeling people experience when androids (humanoid robots) and audio/visual simulations closely resemble humans in many respects but are not quite convincingly realistic". The uncanny valley is N170 firing while your conscious self tells you that you see a real thing.
GitHub's AI coding assistant, Copilot, is a moneymaker: Ongoing copyright lawsuits for Copilot aside - one key difference between AI and the dotcom bubble is that Generative AI is profitable. I'm not sure how much of the revenue get's eaten by running massive compute, but it's not Pets.com.
How AI fake nudes ruin teenagers' lives: "The Federal Bureau of Investigation warned in June of an uptick of sexual extortion from scammers demanding payment or photos in exchange for not distributing sexual images. While it's unclear what percentage of these images are AI-generated, the practice is expanding. As of September, over 26,800 people have been victims of 'sextortion' campaigns, a 149 percent rise from 2019, the FBI told The Post."
A new paper on deepfake videos undermining epistemic trust "found that much of the misinformation in our dataset came from labelling real media as deepfakes" and 85% of people worry about online disinformation, global survey finds. This is the real danger of democratized perceptive editing possibilities: People don't trust what they see and become overzealous.
Eryk Salvaggio on why Generative AI is just Big Data 2.0: "The data analytics industry, and generative AI, is built on a long-standing regime of extracting wealth from information, and a reliance on cheap labor to maximize the information it has collected. Treating generative AI as a revolutionary new tool, or somehow independent of the system in which it originated, makes this connection to historical patterns harder to see, and harder to resist."
The Guardian has a video excerpt from the BBCs new documentary iHuman. It's about "Ilya Sutskever, one of the leading AI scientists behind ChatGPT, (who) reflects on his founding vision and values. In conversations with the film-maker Tonje Hessen Schei as he was developing the chat language model between 2016 and 2019, he describes his personal philosophy and makes startling predictions for a technology already shaping our world." Here's the ten minute except on Youtube:
Mark Zuckerberg ignored teen and user safety warnings from Meta executives: "Meta CEO Mark Zuckerberg has personally and repeatedly thwarted initiatives meant to improve the well-being of teens on Facebook and Instagram, at times directly overruling some of his most senior lieutenants, according to internal communications made public as part of an ongoing lawsuit against the company."
All these news about content creators surging past legacy media as news hits a tipping point make me want to found a newspaper.
Ruby Justice Thelot and Rue Yi on The Balkanization & Babelification of the Internet, or what is also known as the dark forest theory of the internet.
Ryan Broderik in Is the web actually evaporating? writes that "we're now firmly in a TikTok-first and, by extension, video-first internet (...) the internet doesn't make sense in aggregate anymore and trying to view it as a monolith only gives you bad, confusing, and, oftentimes, wrong impressions of what's actually going on."
He terms this new internet we're living in now as The Vapor Web, which is "nearly impossible to grab ahold of it because none of it adds up into anything coherent. Simply put, we're post-viral now."
And that post-virality, given the outcomes of the platform internet and its frictionless large scale viral phenomena including like peer suveillance and outrage cascades and their psychological implications, is probably a good thing.
Rich People Are the Big Barrier to Stabilizing the Climate: "Efforts to curb climate change are failing. That's partly due to the staggering contributions of the global elite."
Did i tell you that i'm for a barrier to wealth? Nobody, no one, needs a billion dollars. Rich people can be rich, even rich as fuck, but nobody, nowhere, needs more than 200 million bucks. And as long as they endanger the rest of us with their stupid private jets and superyachts, they should be held responsible, and i'd vote for punishment by devouring. Eat the rich. (I'm only half kidding here, because as the article shows, rich fucks clearly are a problem. Thank god i'm poor. Check out the support options for this blog below.)
Global warming–induced sea level changes could increase earthquake risk: "Climate change exacerbates glacier melting and subsequently sea level rise, with the potential to trigger more earthquakes in the future". Great.
Oiling the Chicken Machine: Lab grown meat is not that different from animal meat, because in our streamlined world, both come from the imperative of capitalist efficiency: "A chicken breast cultured in a vat and one taken from a factory farm broiler are both products of the same miraculous, troubled system. The single-minded pursuit of efficiency that is largely responsible for this system has caused immense damage to the social fabric of rural communities, to some — though certainly not all — parts of the environment, and to the fundamental connection between place, food, and human beings. But it has also allowed food production to more than keep pace with the demands of a growing population. The modern food system feeds the largest human population ever, at historically low rates of famine."
Bullshit blind spots: The roles of miscalibration and information processing in bullshit detection: The Dunning-Kruger effect has arrived in bullshit studies: "People with the lowest bullshit detection performance overestimate their detection abilities and overplace those abilities when compared to others".
Signaling Virtuous Victimhood as Indicators of Dark Triad Personalities. Two years ago a study found, that many people with dark triad traits use victimhood signaling for personal gains. That study has replicated.
This paper here goes further and makes a connection to revenge and trolling: "Claiming virtuous-victim status releases resources to the claimant, but, in addition, leaves the accused assailant legitimised as a target for attack. We therefore explored (study 3) whether a further dark trait – sadism – would predict exploiting this victimization opportunity. Sadism was significantly and specifically associated with engaging in and enjoying attacks on accused."
Paradoxical gender effects in in meat consumption across cultures: The gender paradoxon is weird. The more equal genders are in a society, the more different they become. In this case: Men generally eat somewhat more meat than women, but they eat significantly more meat in countries with more liberal gender norms. Why?
My theory would be that with fewer social differences between genders, people exaggerate gender markers to stengthen their gender identity. When in my culture, there's only few differences between men and women, i eat steak and shashlick all day long to make a difference. Which, if you think about it, should have been expected.
Understanding Consciousness Goes Beyond Exploring Brain Chemistry. Philip Goff on consciousness as an irreducable feature based on evolutionary fitness: We developed consciousness because it supports survival. I'd argue along the same lines: Humans are a hypersocial special and consiousness is providing us with directionable attention to maximize cooperation.
Consciousness: what it is, where it comes from — and whether machines can have it: Review of three recent books on consciousness.
Immanuel Kant — What can we know? Kants Critique of Pure Reason annotated with illustrated animated GIFs. He also did David Hume, J.J. Gibson, René Descartes, Confucius and Ludwig Wittgenstein.
Richie Hawtins Plastikman Sheet One album will see a 30th Anniversary edition which you can preorder here.
The album is a legendary milestone in Techno-history and provided the first steps for Richie Hawtin to go into more experimental, wide ranging Acid-sounds after his initial club bangers under the FUSE-moniker.
He says the idea behind the album was "taking the sound of my style of Acid deeper into a more cerebral long-form experiment that became the foundation of Sheet One. Recorded mostly over an intense 48 hour period, the album came alive as I paired the Roland TR606 drum machine to the TB303 for my first time, which opened the doorway into this unique Hawtin trip!"
The rerelease does not, however, come with a reprint of the legendary plastikman-acidtabs which were included in the first pressing and which i sold for some good money to some poor non-tripping fucks at a club ¯\_(ツ)_/¯
Original photo from Led Zeppelin IV album cover discovered: "A man depicted on the album cover of Led Zeppelin IV has been revealed as a 19th Century thatcher. The figure is most likely Lot Long from Mere in Wiltshire, photographed by Ernest Farmer. Brian Edwards, from the University of the West of England (UWE), found the original picture when looking through a photograph album for other research. 'I instantly recognised the man with the sticks - he's often called the stick man', he said."
The Beatles' Now And Then played like the early Beatles:
The ending actors strike made Kevin Bacon dance his Footloose-moves. He's still got it.
It's about time: Nintendo Officially Announces Live Action Zelda Movie: "Avi Arad will produce the film for Sony alongside Nintendo's own Shigeru Miyamoto. The film will be directed by Wes Ball, who helmed the Maze Runner films, as well as the upcoming Kingdom of the Planet of the Apes. In a major move for the game publisher's ambitions to bring more of its properties to film after the success of the Super Mario Bros. movie, Nintendo will co-finance The Legend of Zelda with Sony, to the value of more than 50% of the film's production."
John Carpenter will score the new A24 dark comedy Death of a Unicorn, in which "A father (Rudd) and daughter (Ortega) accidentally hit and kill a unicorn while en route to a weekend retreat, where his billionaire boss (Richard Grant) seeks to exploit the creature's miraculous curative properties."
Like every normal person, i hate the Funko vinyl toys because they look shit. So Funko releasing a line of Yellowjackets toys is especially annoying because i love Yellowjackets and i wish they did good looking, cool toys for this great series. But no, we get shitty bobbleheadcrap.
Here's how to do it right: Full Gorillaz Band by Superplastic and the SUPERPLASTIC X GORILLAZ MINI SERIES. These are cool toys for people with style, Funko are shit toys for people without dignity.
Star Wars C-3PO actor Anthony Daniels is selling film memorabilia: "He has put nearly 200 items up for sale at the auction including part of his C-3PO costume, scripts he used during production and even parts of legendary spaceship the Millennium Falcon." His robot-helmet is expected to sell for a million quid. If Daft Punk still existed, i'd have suggestions.
Wim Wenders' Perfect Days: "Hirayama is content with his simple life cleaning toilets in Tokyo. Outside of his structured routine he cherishes music on cassette tapes, books, and taking photos of trees. Unexpected encounters reveal more of his story in a deeply moving and poetic reflection on finding beauty in the world around us."
More trailers worth watching: Space Monkeys, Once Upon a time in the Future: 2121, Ghostbusters: Frozen Empire, Masters of the Air, Inside Out 2.
Stanisław Lem's Prescient Vision of Artificial Life: It's fascinating for me to see the translation and only recent discovering of Stanisław Lem in the anglosphere. I've read not everything, but a good whole chunk of his work and he's especially fun in his more excentric shortstories, where he discusses philosophical paradoxa and weirdnesses in well known scifi-settings. If you don't know Lem, you're missing out.
Everyone Was Wrong About Why Cats Purr. Cats don't purr, they snore. I hate snoring.
Euclid's first images: the dazzling edge of darkness: "ESA's Euclid space mission reveals its first full-colour images of the cosmos. Never before has a telescope been able to create such razor-sharp astronomical images across such a large patch of the sky, and looking so far into the distant Universe." Space.com on the Euclid images.
Japanese scientists want to send a wooden satellite into space. I want more wood in space.
Orcas Strike Again, Sinking Another Yacht. The Orcas and their memetically spreading boat attacks are at it again.
Did i tell you that i'm a romantic? I am, and this is so bittersweet it pushes all my romantic buttons: Unopened 18th-century love letters to French sailors read for first time: "A forgotten bundle of love letters sent to French sailors more than 260 years ago – but never before opened or read – has been discovered among British naval archives, revealing intimate details of 18th-century marital and family life."
---
---
Musicvideos have their own Newsletter now:
GOOD MUSIC
. All killers and absolutely zero fillers. The latest issues featuring The Menzingers, Girl Scout, The Drums, EASYFUN, Upchucks and many more. You can also find all the tracks from all Musicvideos in a
Spotify-Playlist
.
Subscribe to GOOD INTERNET on 

Substack

 or on 

Patreon

 or on 

Steady

 and feel free to leave a buck or two. If you don't want to subscribe to anything but still want to send a pizza or two, 

you can paypal me

.
Thanks.
😶
View draft history
Settings