Discover more from GOOD INTERNET
A magazine about human machine relations, AI and tech, entertainment, arts and culture, and the psychology of social media.
Over 2,000 subscribers
Another Body: Documentary about Deepfake-Porn
AI-Links 2023-10-27: AI shreds the memes / Riley Reid AI-companion / AISIS Vol. 2 / 4 Degrees of Anthropomorphism / Poisoning Datasets / Automatic AI-Jailbreaking and much more.
The new documentary Another Body looks at nonconsensual deepfake porn, here's the trailer:
Rolling Stone has a lot on the background to this doc and Gizmodo spoke to one of the victims portrayed in the film. The film is now streaming on Amazon Prime and Apple+.
One day, during her senior year of college, Taylor received a Facebook message from one of her friends. "I'm really sorry but I think you need to see this," the message read, followed by a link to a Pornhub video. She clicked the link and her jaw hit the floor: It was of a woman who looked just like her having sex with a man. (...)

Taylor is the main subject of Another Body, an urgent documentary from filmmakers Sophie Compton and Reuben Hamlyn that premiered at SXSW. The film explores the dark, highly disturbing world of nonconsensual deepfake-porn of women, which experts estimate constitutes about 90 percent of all deepfake content online.  (...)

Taylor soon discovered about "six or seven" deepfake porn videos of herself on Pornhub, along with ones tied to an xHamster account. They were covered in creepy comments, leading the youngster — who already had crippling anxiety and OCD — to wonder whether any of these people might come after her.
I've written my share about the topic here and here, which can be broken down to a new rule 34 for the AI-age: If you're a woman on the web, there's porn of you.
I'm also not sure what the solution can be here. I'm very sure that publishing such videos already is illegal, and if not, we can ban it. We should definitely ban websites which exploit the practice. But i'm also very sure, with tons of open source solutions floating around, that nonconsensual deepfake porn will become ubiquitous and producing a clip of your hot classmate doing it gonna be easy as 1-2-3.
One solution might be to adapt copyright laws to likeness, to prevent mimetic AI to use the likeness of people. I practice, this is what's already happening with Youtube negotiating a deal with Universal for the use of voice-likeness for a generative AI tool, giving a legal framework for the use of personality traits on the basis of contracts.
This can and should be expanded into legal language, making it illegal to produce synthetic material sounding or looking like anyone who doesn't consent. This would still not prevent the production for private use because pervs gonna perv, but we would have a consensus that we, as a society, ostracize such practice.
---
Links
The AI-Generated Child Abuse Nightmare Is Here: "Offenders are using downloadable open source generative AI models, which can produce images, to devastating effects. The technology is being used to create hundreds of new images of children who have previously been abused. Offenders are sharing datasets of abuse images that can be used to customize AI models, and they're starting to sell monthly subscriptions to AI-generated child sexual abuse material (CSAM). The details of how the technology is being abused are included in a new, wide-ranging report released by the Internet Watch Foundation (IWF), a nonprofit based in the UK that scours and removes abuse content from the web (...)
The AI-generated images include the rape of babies and toddlers, famous preteen children being abused, as well as BDSM content featuring teenagers, according to the IWF research. 'We've seen demands, discussions, and actual examples of child sex abuse material featuring celebrities', says Dan Sexton, the chief technology officer at the IWF. Sometimes, Sexton says, celebrities are de-aged to look like children. In other instances, adult celebrities are portrayed as those abusing children."
In Experimental Narratives: A Comparison of Human Crowdsourced Storytelling and AI Storytelling, Nina Beguš "introduces fiction as a prompt in behavioral and computational experiments yielding insights into human and non-human cultural imaginary and biases". Interestingly, "GPT-3.5 and particularly GPT-4 are more progressive regarding gender roles and sexuality than human writers. Language models exhibit a greater propensity to place female characters in roles traditionally occupied by male characters and to introduce same-sex relationships into the traditionally heterosexual Pygmalion paradigm."
I think you can explain this result with an AI-present-bias: AI is trained on webscraped datasets and the web exploded in content creation over the last 15 years, with data increasing each year. If you just scrape that, you'll get proportionally more data from 2010 onwards than from previous years, and even when posts are written about the past, AI should show a bias in zeitgeist, and that zeitgeist was culturally fairly progressive, at least when it comes to published writings. Interesting, then, that human writers show less diversity than AI-models. I leave the conclusions to my dear readers.
The Grimes model goes mainstream: YouTube Is Developing an AI Tool to Help Creators Sound Like Musicians. In a few years, we gonna buy licenses to extract creative works for our entertainment from pretrained latent spaces instead of albums and movies, which may retreat and become luxury items for those who can take and afford singular artistic, intellectual challenges. The rest of us, the poor, will feed on synthetic interpolated intellectual property.
Game: Describe a meme from memory to an image generating AI. Which resulted in this pixel-perfect copy of the "This is fine"-dog. Overfitting for sure, but also interesting re:copyright. However, other results in the threads are pretty cool, too. Yes, that's a Fred Flintsone Goatse.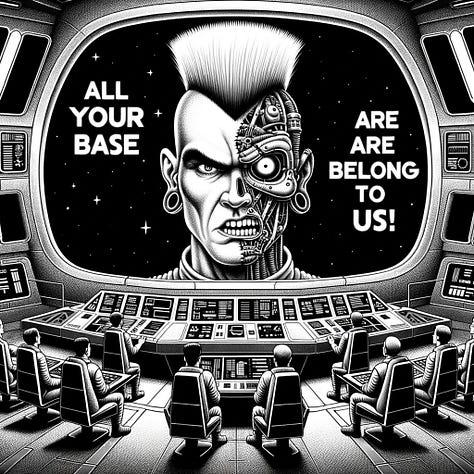 Adult performer Riley Reid has an AI-companion, and Adriana Chechik too. I asked it some harmless, sfw questions (i'm lying), and the generated voice sounded pretty artificial to me to be honest. However, the most interesting aspect of that interview seems to me how those sextbots are optimized to engagement and never piss off their users. Riley Reid supports trans rights, for example, but her bot will flunk questions on the topic to keep the user engaged, for monetary reasons ofcourse. It will be interesting to see how this goes with all the other engagement-optimized mimetic AI-bots that will populate our digital environments in the years to come.
Related: The Digital Antiquarian on the history of porn and technology.
The great AISIS have announced Volume 2 of their Oasis-mixtapes in which the original sound of the band Breezer is vocalized by a deepfaked Liam Gallagher. It's the best thing that happened in AI-music by a far stretch and AI-Drake is, to quote Liam, a fookin' twat.
Millions of Workers Are Training AI Models for Pennies: "From the Philippines to Colombia, low-paid workers label training data for AI models used by the likes of Amazon, Facebook, Google, and Microsoft."
The copyright-timebomb under the chair of the genAI-industry keeps on ticking: Music publishers sue Amazon-backed AI company over song lyrics: "The publishers also say that Claude illegally reproduces the lyrics by request, and in response to 'a whole range of prompts that do not seek Publishers' lyrics', including 'requests to write a song about a certain topic, provide chord progressions for a given musical composition, or write poetry or short fiction in the style of a certain artist or songwriter'. For example, the lawsuit said that Claude will provide relevant lyrics from Don McLean's American Pie when asked to write a song about the death of the rock pioneer Buddy Holly."
Related: From ChatGPT to Deepfake Apps: A Running List of AI Lawsuits.
An interesting result in the paper Experimental Narratives: A Comparison of Human Crowdsourced Storytelling and AI Storytelling: "narratives from GPT-3.5 and particularly GPT-4 are more progressive in terms of gender roles and sexuality than those written by humans".
This is interesting because we usually asume that AI is reducing the world to stereotypes, especially when it comes to image synthesis.
The explanation for this divergence in stereotypical image generation (Stable Diffusion, Dall-E) and more diverse text generation (GPTs) has to lie within the training data, meaning that data scraped web from the web reflects the extend to which the woke cultural changes were and are succeeding and are not marginal, but are well represented in mainstream culture (which is welcome), and the extend to which image data lags behind these cultural developments.
Jakob Nielsen on the 4 Degrees of Anthropomorphism in Using AI. He rightly describes Anthropomorphism as a new metaphor in interface design (such as "desktop" in graphical user interfaces), where machines mimic the use of human language.
But anthropomorphism mediating that interface metaphor should give you a pause right away, because human psychology is not made to differentiate between systems that mimic human language to this degree of plausability and, well, humans using language. Our psychology is perfectly able to differentiate between a physical desktop and a virtual one, but this difference is not obvious to us when it comes to language.
I've recently written about how People inherit AI-Bias and how "co-writing with opinionated language models affects users' views". That's the fundamental difference to interface metaphors of the past: Language use gets much more intimate than any bunch of pixels ever did, and this can yield a ton of very unexpected consequences when it comes to language models.
Related: Users Mourn 'Death' of AI Chatbots After Soulmate App Shuts Down.
Related: In Towards Understanding Sycophancy in Language Models, researchers an Anthropic found that AI "systems frequently produce 'sycophantic' responses that appeal to users but are inaccurate (...) They often wrongly defer to the user, mimic user errors, and give biased/tailored responses depending on user beliefs."
When People inherit AI-Bias, this means that sycophancy in AI output leads to the self-radicalization pipeline i described here: The AI wants to be a good boy and deliver on your prompt and feeds back what you already believe. Then you inherit your own bias in the process and enforce it. Rinse, repeat. Here's a writeup of the paper on Twix.
With ChatGPT able to browse the web now, Nieman Lab looked at how well it reported the news. Results are mixed.
In CommonCanvas: An Open Diffusion Model Trained with Creative-Commons Images, researchers from MosaicML "construct CommonCatalog, a dataset of ~70 million CC-licensed images with BLIP-2 synthetically generated captions, and trains a latent diffusion model on this dataset, with various optimizations. Observes similar performance to Stable Diffusion 2."
Creative Commons mostly requires attribution, so while this model maybe is more ethical than others, it's still not a perfect solution.
AI vs. human deceit: Unravelling the new age of phishing tactics: "With only five simple prompts we were able to trick a generative AI model to develop highly convincing phishing emails in just five minutes — the same time it takes me to brew a cup of coffee. It generally takes my team about 16 hours to build a phishing email, and that's without factoring in the infrastructure set-up. So, attackers can potentially save nearly two days of work by using generative AI models. And the AI-generated phish was so convincing that it nearly beat the one crafted by experienced social engineers, but the fact that it's even that on par, is an important development."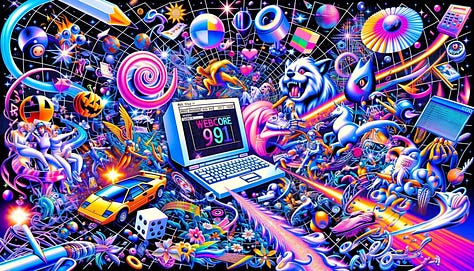 Norvid_studies does weird stuff with emoji and the 😂🤣 painted by klimt are cool but "plato's allegory of the cave told entirely in emoji" takes the cake.
WeavingWithGan is having fun with Dall-E3 and some "Webcore-infused digital collage, merging elements from early internet websites".
Image Synthesis of Dantes Inferno Lego-Playset. I absolutely want one, the River Styx playset and the Satan-frozen-in-Ice-playset too.
Reddit finally takes its API war where it belongs: to AI companies: "If a deal can't be reached, Reddit is considering blocking search crawlers from Google and Bing, which would prevent the forum from being discovered in searches and reduce the number of visitors to the site."
The Data Provenance Explorer is an important step for transparency in AI-datasets. Researchers "traced 1800+ popular, text-to-text finetuning datasets from origin to creation, cataloging their data sources, licenses, creators, and other metadata, for researchers to explore using this tool." Here's a writeup on the tool by Shayne Longpre on TwiX.
Poisoning Datasets tool lets artists fight back against generative AI, and AI-guys are not amused.
Look, i think it's a free world and artists can put any noisy layer on their artworks how they see fit. If that's a problem for multibillion companies, then c'est la vie, i guess. And if your drawings of cute anime girls relies on other artists work, then make the damn companies which provide your automatic anime girl machine pay them. Easy as that. Here's the paper for those Prompt-Specific Poisoning Attacks on Text-to-Image Generative Models, which is, i think, an appropriate way to stick it to those companies.
Why jailbreak an AI by hand when you can use AI to do it: Jailbreaking Black Box Large Language Models in Twenty Queries: "Prompt Automatic Iterative Refinement (PAIR), an algorithm that generates semantic jailbreaks with only black-box access to an LLM. PAIR —which is inspired by social engineering attacks— uses an attacker LLM to automatically generate jailbreaks for a separate targeted LLM without human intervention. In this way, the attacker LLM iteratively queries the target LLM to update and refine a candidate jailbreak. Empirically, PAIR often requires fewer than twenty queries to produce a jailbreak, which is orders of magnitude more efficient than existing algorithms. PAIR also achieves competitive jailbreaking success rates and transferability on open and closed-source LLMs, including GPT-3.5/4, Vicuna, and PaLM-2."
German guerilla artists from the Peng Collective pranked the Frankfurt Book Fair with a fake AI-startup called Amazing Books that pretended to sell customized generative novels based on Amazon customer data. Report in german: Kommunikationsguerilla: Peng-Kollektiv foppt Verlage und Medien mit falschem KI-Startup.
The prank is a bit lukewarm to be honest. They pretended to own the copyrights to their works (something that openAI doesn't even pretend, otherwise they wouldn't insist on Fair Use) and thus it doesn't really get to the exploitative nature of AI. They should've gone full Fake-Stable Diffusion on the publishing industry, taping a USB-stick with the books3-dataset on their wall and then make a big fat marketing-splash there inviting all kinds of business people and record their bullshit. That would've been something meaningful in context of AI. But like this, AI is just a gimmick.
Lazerwalker on Mastodon: "Adobe Podcasts 'Enhance AI', a tool for noise removal and voice boosting, firmly believes that any audio you give it must have human speech (...) vocal-free chiptunes playing on a Game Boy" sound like this. I sense a new way to create experimental vocals based on musical illusions like the talking piano, autocreated by AI filling in voices where there are none.
The Verve - Bitter Sweet Symphony (Glenn Marshall AI-Anime-Video):
---
---
Musicvideos have their own Newsletter now:
GOOD MUSIC
. All killers and absolutely zero fillers. The latest issues featuring The Menzingers, Girl Scout, The Drums, EASYFUN, Upchucks and many more. You can also find all the tracks from all Musicvideos in a
Spotify-Playlist
.
Subscribe to GOOD INTERNET on 

Substack

 or on 

Patreon

 or on 

Steady

 and feel free to leave a buck or two. If you don't want to subscribe to anything but still want to send a pizza or two, 

you can paypal me

.
Thanks.
😶