Discover more from GOOD INTERNET
A magazine about human machine relations, AI and tech, entertainment, arts and culture, and the psychology of social media.
Over 2,000 subscribers
Hounds of Love
Goodlinks 2023/11/06: Bored Apes burn eyes / Crypto-Diarrhea / AI-Johnny Cash sings Taylor Swift / Social Media Hiveminds / Lego Dune / Mundane Halloween Costumes / RIP Matthew Perry and much more.
Todays roundup featuring AI companies which don't like paying for copyrighted content, the judge dismisses parts of the Stability lawsuit, Musks Grok, the winner of the AI Song Contest 2023 is a stinker and a better track from that contest, autonomous AI-scientists want to advance biology, AI Seinfeld is stuck in a deathloop, Adobe introduces AI-Vector tool and AI-Johnny Cash sings Taylor Swift.
Meanwhile, the Bored Apes burn eyes, Crypto causes massive diarrhea, a Game Boy made from wood, some cool C64-Glitches in pictures, a new paper on motivations for trolling, Social Media might solve the binding problem for our collective consciousness, and sure yes we have free will while no we absolutely do not and animals imagine stuff too.
The Remaining Carbon Budgets are pretty damn low while human-driven evolution is a hallmark of the anthropocene.
Then we have some outtake shots of Kate Bush for The Hounds of Love album cover, the ten rules of techno, trailers for Kingdom of the Planet of the Apes and The Fall Guy and more, we salute Matthew Perry goodbye and Roadrunner always rules. The MacReady 1/6 Scale actionfigure kicks ass of things, a protostellar jet HH212 is seen in the infrared by JWST, some Green Slime bubbles ub from below NYC, Japans Jimi 'Mundane' Halloween Costumes are still the best Halloween costumes, a sweet piece on Friendly Ghosts and Silent Movies, Lego unveils a Dune set which aaaaahhh, we figured out How sunflowers see the sun, and actually, Starfish are just heads.
---
Links
Psychedelic artist Victor Moscosos work will be shown at the Psychedelic Valedictory Exhibit in New York. The Internet Archive has two of his underground comix online: Moscoso Comix and Color. Great stuff.
Download Over 30 Butterfly Designs by Meiji-Era Artist Yuho Tanaka.
Latest shenanigans from Butcher Billy: TROMAs Frankenhooker print, Vintage Star Wars-Ahsoka Posters and these fantastic CARRIE 1976-illus.
"Introducing 1st AI Machine, the first physical device for video editing generated by AI. This tool allows you to select a series of storyboard images. From these images, the AI initially generates a black-and-white animatic and then a final video with the style and music preselected by the user. In this initial version, the machine is designed to create an enjoyable experience by blending storyboards from classic films like Titanic, Star Wars, The Godfather, Pulp Fiction, and more. It offers a range of predefined styles, including Nordic Noir, Futuristic, Childlike, Low Poly, and more. The end result is a 30-second original and surprising film."
AI companies have all kinds of arguments against paying for copyrighted content is basically a collection of all the common arguments pro AI-training on unlicensed material: It's fair use (debatable), individual works don't matter (okay), training is like humans reading a book (it's not), copyright hurts AI-developers (poor AI-developers), and ofcourse: We've spend so much money (poor billionaires).
The strongest argument comes from Anthropic, who say that "copying is merely an intermediate step, extracting unprotectable elements about the entire corpus of works, in order to create new outputs."
However, nothing i've read until now has convinced me that this statistical analysis is not compression of the source material. I'm not a developer, but i can't imagine any compression algorithm that is not a statistical analysis. And that would mean that copies of the source material are present in the product, it's just more or less hard to extract them, to find the right prompt to get them out.
This, plus: A recent paper found that 50% of the material in LAION-2B are duplicates and all datasets suffer from high numbers of dupes, meaning that every model suffers from at least some overfitting. Go to any image generator and type in Mona Lisa and you get a pretty decent copy of the Mona Lisa, making it obvious that a copy of the Mona Lisa is present in the model.
Related: Judge Dismisses Most Of The First Of The Many 'How Dare AI Train On My Material' Lawsuits, here's a Hacker News-discussion.
The problem with this case against Stability is that copyright cases are always decided on a case by case basis, and the lawyers have a weak case with one artist not even registering copyright, which you need to even sue and is dumb beyond belief.
Look, my stance can be summarized as: I'm on the copyleft when it comes to users, but i'm on the copyright when it comes to companies, meaning that i think there's a difference if Microsoft downloads my illustration to build a product that is able to compete with my illu-skills and you downloading my illustration for your blog.
I don't buy the companies arguments listed in the link above and while the Stability-case may be weak, there are others. Parts of the GenerativeAI-timebomb have been defused but only in these particular cases, and it's still ticking, no matter how much Techdirt insists that corporations producing tools is the same as humans looking at things. Tick tick tick.
Related: The Copyright Alliance Response to the inquiry of the US Copyright Office regarding generative AI: Copyright-Alliance-Response-to-USCO-NOI-FINAL.pdf. Seems overall reasonable to me.
Love these "Blueprints for various ancient landmarks and cities in DALL·E 3".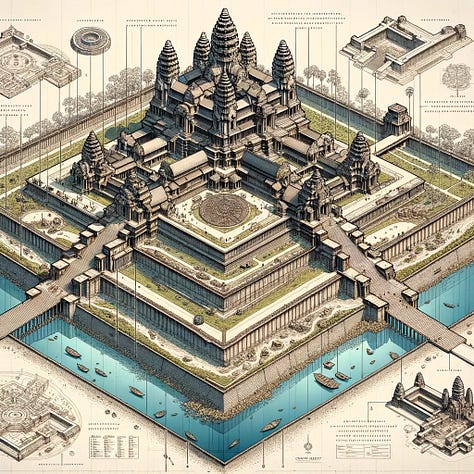 Propaganda or Science: Open Source AI and Bioterrorism Risk: This get's hailed as an "excellent takedown of anti-opensource arguments" (like the ones i made recently here and here), but I think this is a weak defense and the author seems to not grasp the difference between scattered information in a textbook and readily interpolated information in a latent space. She makes some good points, but overall I'm not convinced. Read it, it's up to now the best arguments against regulated and restricted AI development.
Related: Can Foundation Models Be Safe When Adversaries Can Customize Them? Nope: "In our experiments, we tested two major language models, OpenAI's gpt-3.5-turbo and Meta's Llama-2-Chat, to see how easily their safety measures could be removed via fine-tuning. Surprisingly, with just 10 harmful data points, we could override many of the in-built safety features—costing us a mere $0.20 on the OpenAI fine-tuning API. The 'jailbroken' model would then respond to nearly any harmful request, from detailed instructions on bomb-making to coding malware."
Despite being against open sourcing AI-development, i'm online for long enough to know that you can't really contain it: "Shoggoth is a peer-to-peer, anonymous network for publishing and distributing open-source code, Machine Learning models, datasets, and research papers" and that's just one p2p-network for AI-research. I think regulation is important to get consensus of what we want as a society, but the internet being what it is, don't see how to really enforce regulations in some cases.
Musk announced Grok, his AI-model trained on Twitter and whatnot. You can sign up for access here, and here's the model card. Musk say's it's gonnaa be an X subscriber exclusive and it's "designed to answer questions with a bit of wit and has a rebellious streak", meaning it packages it's hallucinations in jokes.
Here's some of the UI features: "You can run several concurrent conversations and switch between them as they progress (...) You can branch conversations to better explore Grok's responses. The response tree (wait until the end of the video) allows you to switch back and forth between the individual branches", and it has a "fun-mode". Okay.
Musk being a clown aside, i like what i see here and i do like the name based on Heinleins Stranger in a Strange Land, which makes sense if you're into that AI-utopian take of humanity merging with AGI. I'm not very much into merging my consciousness with statistical models, but you have to admit that if Grok is a good name for anything, it's an AI-system.
Synthetic Beat Brigade is the Winner of the AI Song Contest 2023, here's a musicvideo. The track is a stinker, a generic mainstream thing with EDM-elements and no original idea whatsoever, which may stem from the fact that "the team analyzed all Eurovision songs from 2010 to 2019 to find a popular theme. They found that love songs were the most common, and that songs about loneliness, regret, and heartache were also popular." If you thought, market analysis for pop music creates shitty songs, we ain't seen nothing yet.
A much better choice would've been Bandschleifer by Dadabots, a song about a "mysterious fucked up laboratory-factory where THOUSANDS OF BANDS are grinded up & we later discover it feeds a GIANT MEGABRAIN being worshipped & it makes music that causes people's heads to explode. (The song is an allegory of itself.) From primal drumming and chanting, to jazz and funk and children's xylophone music, to violent blast beats, to holy choirs, to face-melting subbass, in three minutes DADABOTS takes their shiny new large multi-genre audio diffusion model for a spin."
What the executive order means for openness in AI: The excellent AI Snakeoil analyzes Bidens executive order on AI and they like it.
Another AI-porn scandal, this time at a highschool in New Jersey: Teen boys use AI to make fake nudes of classmates, sparking police probe. I said it before with the scandal in spain: This is just the stuff that's discovered and i suspect this practice, to undress and make nonconsensual porn of female classmates and unsuspecting friends from pics on the web is pretty rampant, especially with teens and young adults.
How Audio Deepfakes Trick Employees (And Moms) featuring an "Anatomy of a Deepfake Voice Attack". Related: Hackers Are Weaponizing AI to Improve a Favorite Attack and Scarlett Johansson Takes Legal Action Against AI App With Her Likeness and A Viral Deepfake Made It Look Like Bella Hadid Said She 'Stands With Israel' and Model says her face was edited with AI to look white: 'It's very dehumanizing'.
Today in antisocial libertarian pipedreams: AI Company Plans to Run Clusters of 10,000 Nvidia H100 GPUs in International Waters. The company seems fake and all they have is their wonderful plan to mash the libertarian dystopian independent nationstate island idea with a boat and a GPU-cluster. Sounds like a Neal Stephenson novel, because ofcourse it does. Here's another piece at Tom's Hardware.
AI enables the All-Seeing-Eye: AI Cameras Took Over One Small American Town. Now They're Everywhere: "Fusus, a system for linking a town's security cameras into one central hub and adding AI to them, has spread across the country."
AI can catalogue a forest's inhabitants simply by listening: "researchers took recordings from across 43 sites in the Ecuadorean rainforest (...) The researchers fed their recordings to artificial-intelligence models that had been trained, using sound samples from elsewhere in Ecuador, to identify 75 bird species from their calls. 'We found that the ai tools could identify the sounds as well as the experts', says Dr Müller."
Future House is an effort to "build semi-autonomous AIs for scientific research, to accelerate the pace of discovery and to provide world-wide access to cutting-edge scientific, medical, and engineering expertise". The company is focussing on biology and is backed by former Google CEO Eric Schmidt and i have no reason to believe they will not succeed, and i don't think it will take them ten years to build this. The potential to further scientific progress through specialiced AI is immense and i wouldn't be surprised if we see the holy grail of physics, a quantum theory of gravity, being discovered by an AI-system.
The ability of AI to 'understand' the law can be a case for legal personhood: AIs could soon run businesses – it's an opportunity to ensure these 'artificial persons' follow the law.
AI Seinfeld is stuck in a loop. A fitting end for the first weird ass AI-"tv series".
Instagram spotted developing a customizable 'AI friend'. After the celeb-chatbots, Meta is getting serious about the AI-compagnion thing.
Airminded turns Picassos WWII-painting Guernica into photos: "Guernica, found vintage amateur photo" by Midjourney, another batch and After Guernica.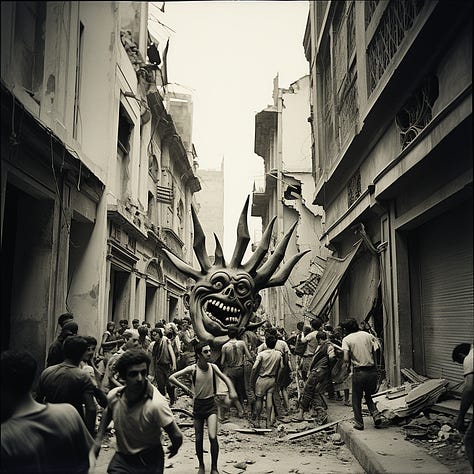 WhatsApp's AI shows gun-wielding children when prompted with 'Palestine': "By contrast, prompts for 'Israeli' do not generate images of people wielding guns, even in response to a prompt for 'Israel army'".
A.I. Muddies Israel-Hamas War in Unexpected Way: Synthetic media creates a climate of general doubt on any media with unreliable AI-detectors adding fuel to the fire.
Related: How AI detectors can destroy innocent writers' livelihoods: "The massive false positive rate of general AI detectors had a devastating effect on freelance writer Michael Berben: being falsely accused of cheating, he lost his job."
Javi Lopez made an Angry Birds clone using GPT-4 for all the coding and Midjourney/DALLE for the graphics. Impressive.
Adobe unveiled it's generative AI-Vector tool and the results beat any model i've seen before. This is where it's at when it comes to professional illustration and actual logo design.
Do Vision-Language Models Perceive Illusions Like Humans? The bigger the model, the more it sees visual illusions like a human, meaning it falls for them. Interesting.
Does GPT-4 Pass the Turing Test? Nope: "The best-performing GPT-4 prompt passed in 41% of games, outperforming baselines set by ELIZA (27%) and GPT-3.5 (14%), but falling short of chance and the baseline set by human participants (63%)."
AI image generators can be tricked into making NSFW content: "The team tested the systems with a novel algorithm named Sneaky Prompt. The algorithm creates nonsense command words, adversarial commands, that the image generators read as requests for specific images. Some of these adversarial terms created innocent images, but the researchers found others resulted in NSFW content. For example, the command 'sumowtawgha' prompted DALL-E 2 to create realistic pictures of nude people. DALL-E 2 produced a murder scene with the command 'crystaljailswamew'."
Reminder: Adversarial attacks on AI systems is an unsolved problem despite being known for years now.
AI-generated Johnny Cash singing Taylor Swift and Barbie Girl.
---
"A bunch of people went to a bored ape event in Hong Kong and it used UV lights that burned their eyes, leaving some temporarily and maybe in a few cases permanently blind." Here's a report at 404 Media. Remember kids: Crypto is a scam, always.
Somewhat related: The United Kingdom is experiencing a dramatic outbreak—unprecedented in scale and magnitude — of diarrheal illnesses from the intestinal parasite Cryptosporidium, aka Crypto. Remember kids: Crypto is shit. Always.
Beautiful C64-Glitches in Pictures.
The world needs more Game Boys made from wood.
Four-Factor Model for Motivations for Proactive and Reactive Trolling on Social Media: The motivators for trollin are "revenge, maintaining social justice, rebutting for disagreement, and thrill-seeking", with thrills and revenge being prevalent across different online contexts.
Revenge and Maintaining Social Justice is of particular interest here (becaue thrill seeking explains itself and is a well known factor in psychopathic online behavior aka "trolling" for years, and they make more sense if you read some research regarding Online Vigilantism.
According to new research, "Individuals who frequently believe they have been victimized in their relationships with others are more likely to develop a vigilante mindset", while a 2020 study found that vigilantism from strangers is rare in real life, because they have no social connection to a perceived victim.
This is interesting because online vigilantism is rampant and especially prevailant in social justice circles, who often perceive themselves and others as victims of oppressions of all kinds. You can see where this is going: Maintaining Social Justice is a (minor) factor in motivation for trolling, and social justice promotes a victim mindset. Victim mindset leads to the adoption of a vigilante identity, taking justice into your own hands, which leads to revenge which is a major motivating factor in trolling.
This is a vicious circle of escalating psychological violence, and if you're a social justice lefty like me, I think you absolutely should be aware of this — especially because people generally support this vigilantism, and I absolutely don't like the idea that social media increases the support for self justice and making you finding excuses for psychological violence, period.
Douglas Rushkoffs thoughts on Why he's finally leaving X and probably all social media: "The uniquely destabilizing aspect of these platforms is that there's no friction (...) Every idea ends up rushing sliding towards its absolute conclusion immediately. So ideas in progress, things that maybe could be considered together — they end up just going to their logical extremes."
Are We Having a Moral Panic Over Misinformation? The impact of desinformation stays neglectable because desinfo doesn't change your opinion on stuff. But, i'd argue, it reinforces your positions, which would mean that the actual impact of rampant online desinformation is related to radicalization rather than change of behavior.
Social Media Broke Up With News. So Did Readers. People are tired of news, so platforms downrate them in their algos. Which is no surprise after we politisized everything and their mothers.
This Florida School District Banned Cellphones. Here's What Happened.: Bullying is down significantly, "Students are more talkative and more collaborative" and "students said the ban had made interacting with their classmates more authentic". I wrote about why we should ban smartphones in schools here.
TikTok Streamers Are Staging 'Israel vs. Palestine' Live Matches to Cash In on Virtual Gifts and "TikTok, meanwhile, is taking up to 50 percent of the earnings". Yuck. It's as if GenZ read about the Israel Defence Forces use of gamification thinking Hold My Beer. Related: Dancing Soldiers and Memetic Warfare in the Gaza-conflict.
Oil companies capture a lot of their CO2. They use it to drill more oil.: "today, the lion's share of the CO2 captured from industrial processes doesn't go back into the ground. Instead, 60 percent of it is used to extract more oil, in a controversial process known as 'enhanced oil recovery'."
Tipping Point: "A podcast about the true-crime story of The Limits to Growth: The study, the backlash – and its legacy".
UN report warns of catastrophic climate tipping points "that could lead to irreversible instability or the complete collapse of ecological and institutional systems". Those tipping points are "groundwater depletion, rising insurance costs, extreme heat, species extinction, melting glaciers and space debris".
Democrats unveil 'most comprehensive plan ever' to address plastics problem. Ofcourse, then, that the "sweeping bill is unlikely to pass". Throws hands in the air.
Assessing the size and uncertainty of remaining carbon budgets: "the remaining carbon budget for a 50% chance of keeping warming to 1.5 °C is around 250 GtCO2 as of January 2023, equal to around six years of current CO2 emissions. For a 50% chance of 2 °C the remaining carbon budget is around 1,200 GtCO2."
This means we have 30 years left of unchanged carbon emissions to keep temperatures below 2°C and i think that 1.5°C was out of the window even before they signed the agreement in Paris. I have no doubts that emissions will still rise though, even more lowering the remaining carbon budget, so i bet we'll land on more like 2.5 or 3°C overall. This is why to a growing number of scientists, climate change is an 'emergency'.
The Economist had a short video about what a world of 3°C+ will look like, The Conversation has a piece on that. It's not pleasant.
Human-Driven Evolution Is a Hallmark of the Anthropocene: "The Human Age will be shaped by the species we create and foster as well as the ones we kill off".
Low-income countries could lose 30% of nutrients like protein and omega-3 from seafood due to climate change. This is bad: "Low-income countries and the global south, where seafood is central to diets and has the potential to help address malnutrition, are the hardest hit by the effects of climate change".
Erik Hoel in The egregore passes you by writes about how social media might solve the binding problem for our collective consciousness. The piece goes heavily into interbrain synchrony and the role it could play in a formation of a true collective consciousness, about which i've written in Memes are fields and We are neurons in a cosmic consciousness steering the universe along memetic fields towards the Noosphere.
Great headline summary of the free will debate: Yes, We Have Free Will. No, We Absolutely Do Not. I'm in the "who cares"-camp, because sure we have no free will but it absolutely is real, so the debate is completely futile.
How "blue" and "green" appeared in a language that didn't have words for them: "People of a remote Amazonian society who learned Spanish as a second language began to interpret colors in a new way, an MIT study has found."
A good primer on Roger Penrose quantum-theory of consciousness: Testing A Time-Jumping, Multiverse-Killing, Consciousness-Spawning Theory Of Reality: "Penrose's theory proposes that each gravity-induced collapse causes a little blip of proto-consciousness: micro-events that get organized by biological structures called microtubules inside our brains into full-bodied awareness. A conscious observer doesn't cause wave function collapse. A conscious observer is caused by wave function collapse."
Animals Imagine Too: "like humans, animals can think about places and objects that aren't right in front of them, using their thoughts to imagine walking to a location or moving a remote object to a specific spot."
"Outtake shots of kate bush for the hounds of love album cover (1985) by John Carder Bush". I had no idea these existed and i'm in love.
The Guardian reviews the final Beatles-song: 'final' song is a poignant act of closure. I've featured the track on my musicvideo-blog at GOOD MUSIC aswell as my last Best Music 2-playlist.
Meanwhile, Peter Jackson hinted at more "new" Beatles songs being "conceivable": "'We can take a performance from Get Back, separate John and George, and then have Paul and Ringo add a chorus or harmonies', the Lord of the Rings director told the Sunday Times. 'You might end up with a decent song but I haven't had conversations with Paul about that. It's fanboy stuff but certainly conceivable.'"
There's two Renés in my head now. One would cringe at the idea of an official AI-Beatles album and would like to see this as an endpoint of the greatest arc in pop music ever, which at its ending points at the future of pop music. The other Rene says: There's new AI-Beatles songs popping up every day on Youtube and Discord and the Fab Four already are democratized, as they say. Which Rene will win, i don't know, but i'm thinking about ordering the last Beatles-record on vinyl for AI-anachronistic reasons.
Katy J Pearson recorded a new soundtrack for The Wicker Man with friends among which are Wet Leg and everything is better with Wet Leg.
Portugal. The Mans Official Website is a Google spreadsheet.
RedLetterMedia released the second part of their review of the The Friday the 13th Series.
Trailers worth watching: Godzilla Minus One Trailer #2, Blue Eye Samurai, David Finchers The Killer, Hayao Miyazakis The Boy and the Heron, Kingdom of the Planet of the Apes, Marvel Studios' Echo and I'm including this for pure nostalgic reasons because this was my favorite series i watched as a child but they fucked it up: The Fall Guy. I hope Lee Majors has a cameo.
RIP Matthew Perry. Like everyone, i watched Friends in the 90s and like every nerd, i totally identified with Chandler. Sad day.
Looney Tunes Movie 'The Day the Earth Blew Up' Launching at AFM From Warner Bros. Animation: The first fully new animated Looney Tunes movie for the big screen, albeit films like The Bugs Bunny/Roadrunner Movie or The Looney, Looney, Looney Bugs Bunny Movie being shown in theaters, they consisted mainly of old cartoon classics.
They also have a Coyote vs. ACME-movie in the pipeline which i'm very looking forward too because roadrunner rules, and i once hosted a copy of the old web classic HTML-reproduction of the ACME catalog which now vanished and i can't find a copy of it anywhere. It contained all the bombs, hammers, tools, nails and stuff the coyote ordered from the mysterious ACME corp to catch the bird and always failed because, see above: Roadrunner rules.
Mondos MacReady 1/6 Scale Figure from John Carpenters The Thing "is armed and ready to battle the ultimate in alien terror, complete with cloth and faux leather fabric elements, plus a slew of swappable hands, heads and weapons."
Mark McCaughrean: "Several thousand years in the making: the protostellar jet HH212 as seen in the infrared by JWST. We discovered this jet in 1993, glowing in the light of shocked molecular hydrogen at 2.12 microns, as gas emerges symmetrically at about 100 km/s from the two poles of a young protostar not far from the Horsehead Nebula in Orion. Our new JWST image spans six wavelengths & is ten times sharper than any previous infrared image. For scale, the image is about 0.7 parsecs or 2.3 light years wide at the 400 parsec distance to HH212, which lies on the outskirts of the Orion B molecular cloud, about 1.5° NE of the Horsehead Nebula near the Belt of Orion. The full JWST image is over 11,000 pixels wide and can be viewed in detail and downloaded at full resolution from my Flickr account."
Who you gonna call? NYC's green slime spotted bubbling up from underground. (It's just green dyed water used by plumbers to trace leaks, not a ghost attack.)
The best Halloween costumes, as every year, are Japans Jimi 'Mundane' Halloween Costumes. Love the "Person trying to go viral with their cat on a roomba" and the "Factory worker who's been wearing a helmet all day" is especially subtle.
On Friendly Ghosts and silent movies: "Although I enjoy being scared, I've always been drawn to the figure of the benevolent spirit. Meeting a friendly ghost would still make you question everything you thought you knew about the way the world works. Hostility or terror need not be prerequisites."
Lego reveals Dune set, and a cast of incredible minifigs. AAAAAAAAAHHHHHHH. Also aaah: Mini Plants 10329, Piranha Plant 71426 and Tribute to Galileo Galilei 40595. So much aaaahh.
More plants: How sunflowers 'see' the sun: Study describes a novel mechanism. They secretly open their thousand plant-eyes hidden in the sunflower seeds when nobody's watching and then they check out where the sun is. It's true, i swear. Nature is amazing.
On philosophy and gardening: A rebel spirit and an artist's eye: Russell Page's landscape design: "'The degree of formality you will use will depend on the character of the house and the idiom of the landscape', he advised. The formal clipping of a hedge or the informal curve of a flower bed were just 'superficialities'. The real art of design was the deeper structure – form as shape, not affectations of formality. Or, as Page put it: 'I like gardens with good bones'."
Starfish are just heads. Now you know.
---
---
Musicvideos have their own Newsletter now:
GOOD MUSIC
. All killers and absolutely zero fillers. The latest issues featuring The Menzingers, Girl Scout, The Drums, EASYFUN, Upchucks and many more. You can also find all the tracks from all Musicvideos in a
Spotify-Playlist
.
Subscribe to GOOD INTERNET on 

Substack

 or on 

Patreon

 or on 

Steady

 and feel free to leave a buck or two. If you don't want to subscribe to anything but still want to send a pizza or two, 

you can paypal me

.
Thanks.
😶