Discover more from GOOD INTERNET
A magazine about human machine relations, AI and tech, entertainment, arts and culture, and the psychology of social media.
Over 2,000 subscribers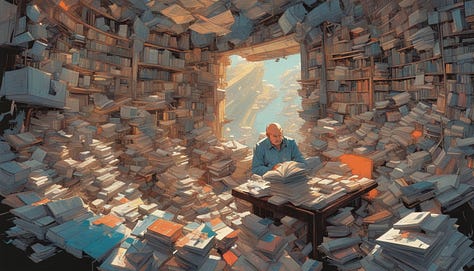 Tsundoku is the japanese word for the art of collecting books and not reading them. You might simply call a tsundoku collection a simple PUB, a pile of unread books, but this does not encompass the fact of collecting, and while I read a lot, i buy even more and love the look of the pile of unread books get higher and higher. I'm guilty as charged.
My collection habbit didn't start with books. In my life, i collected, in chronological order *takesadeepbreath*:
Marbles; stamps (i recently re-bought this fantastic sheet of old GDR-space stamps released at the 10th anniversary of manned soviet spaceflights and i seriously consider getting back into stamp collecting, focussing solely on space stamps, a branch of stamp collecting called astrophilately); shells; Ghosthunter John Sinclair and Tony Ballard pulp magazines; Mickey Mouse and Superman comics; Star Wars action figures (the original Kenner run, and yes me and my fellow Star Wars action figure collector buddies so very much looked down to kids collecting Masters of the Universe crap and their silly toys for children, ugh); german Hörspiele which are audioplays for kids on cassette tape; C64 floppy disk sleeves from the warez scene; 64'er Magazines; Stephen King books; heavy metal and punk picture disc vinyls (i owned the Metallica One ten inch, all albums as picture discs, Warlocks Triumph and Agony as a picture disc housed in a 30" high full colour cut-out shaped display, and Megadeths cover of The Sex Pistols Anarchy in the UK as a UK-shaped picture disc); movie posters (i focused on horrormovies and hang up the poster for Lucio Fulcies Zombie on my wall just to take it down a week later because even for a horrorbuff like me, i didn't like the idea of a printed rotting corpse staring down at my sleeping body all night long and it creeped me the fuck out); VHS-movies (only pirated copies and i was very proud of some of my horror imports of back then banned and censored movies and the workprint-copy of Ghostbusters 2 i got circa 3 months before it ran in german cinemas, which in 1989 was quite an achievement for a fifteen year old — however, you couldn't really watch this copy, it was black and white and a copy of a copy of a copy of a copy with blurred and distorted moving images you could only guess to show a movie featuring slimey ghosts and protonblasters going off, but hey!); a huge techno vinyl collection including all kinds of classics from the legendary Gravitational Arch of Ten, Josh Winks How's the Music or the classic Schöneberg by Marmion and many, many more; related to that i owned a huge collection of deejay mixtapes including the first sets of Jeff Mills as the energyhouse-hiphop-electro DJ The Wizard; the techno music magazines Groove and Frontpage (the latter of which was designed by Alexander Brandczyk who later became my boss when i worked at the XPL typo-studio spawned out of the Frontpage-posse more than ten years later where i also discovered writing on the web and started my first blog, no less); my inevitable collection of thousands of techno flyers, which paled every other collection you can find online — no offense: it's true — and which included pretty much all monthly Omen-flyers from the legendary first club of Sven Väth, flyers to illegal raves in the Frankfurt area, and this gem of a flyer i cobbled from a truck at the 1993 Love Parade in Berlin by jumping at the driving vehicle and ripping it off the windshield:
During my years as a graphic designer i collected type specimen and later i got back into collecting comics and pulp again (owning a lot of early issues of The Walking Dead worth thousands, a complete run of the fantastic Fables and Preacher comics and many early MAD magazines, my collection encompassed six longboxes if you know what i mean), and you can very much call me a digital data hoarder with an image collection consisting of roughly 100k files, ranging from high res scans of old japanese retrotech ads to the covers for classic 8mm monster movies.
What I'm saying is: I've got the collector virus, can't do much about that.
These days, i collect books.
I read a lot, but my giant tsundoku pile of unread books vastly and outright ungently towers over my readings, watching my futile tries to catchup with a merciless grin. I love it. I'm surrounded by unread books, quite literally, the books laying around my flat in every corner you can look at, taking residence in and on every piece of furniture, laying on the floor, on my desk, on the various shelves, in my bed, and i have a pile of scifi and horror pulp residing beside the toilet too, in case of longer conversations with my digestive trakt.
My favorite bookstores in Berlin are the Bücherhalle in Schöneberg — a fantastic store for used books with a marvelous selection with the owners specializing in textbooks and nonfiction, the weirder the better. There you can find stuff ranging from classic history and philosophy to esoterics like numerology and telepathy, classics from cognitive sciences, but also poetry about bogs, collections of fairytales and mythology, political anarchist manifestos, coffee table books about architecture and books about urban planning — and Antiquariat Hennwack, Berlins largest shop for used books of all kinds, where i shot some pictures recently: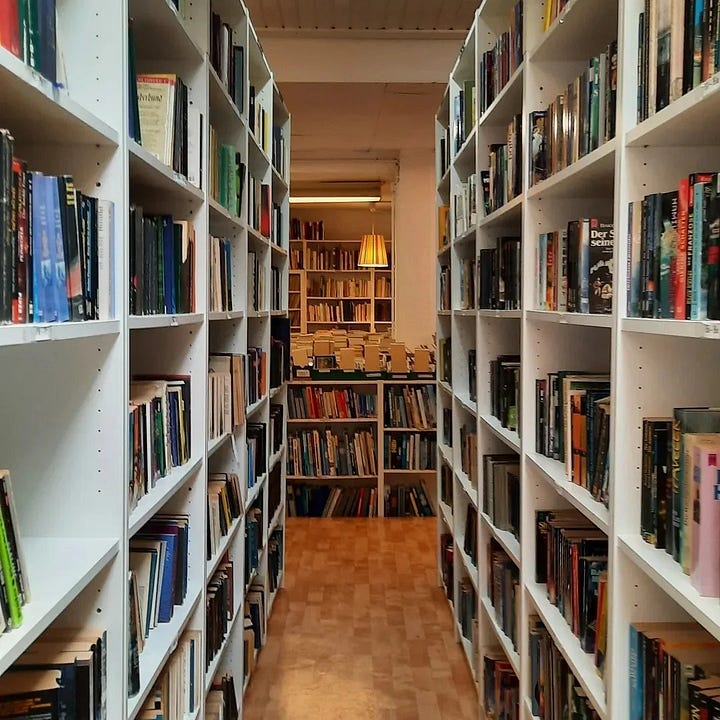 In those shops, a few days ago i bought books about the history of the medieval jester, a philosophical encyclopedia on mimesis, a biographical overview on the thinking of Ludwig Wittgenstein, Sokrates and Heidegger, a book on the limits of science as a language to describe the world, an anthology featuring classic texts about death, an overview of consciousness sciences at the end of the 1990s, "Jazz-Professor" Behrendts The World is Sound about "Music and the Landscape of Consciousness", Louise Youngs The Unfinished Universe, a book about a dialogue between Karl Popper and Konrad Lorenz, an anthology of texts by Teilhard DeChardin, a small novel by Hermann Hesse, an introduction to Ernst Cassirers philosophy of the symbolic form, Eric Hobsbawms 1969 book on the history of Bandits, and, for a good measure, Micheal Crichtons nanotech-thriller Prey.
All of these go into my tsundoku pile of unread books, which i prefer to call my antilibrary.
The term Antilibrary was coined by Nassim Nicholas Taleb in his book The Black Swann:
The library should contain as much of what you do not know as your financial means […] allow you to put there. You will accumulate more knowledge and more books as you grow older, and the growing number of unread books on the shelves will look at you menacingly. Indeed, the more you know, the larger the rows of unread books. Let us call this collection of unread books an antilibrary. […] We tend to treat our knowledge as personal property to be protected and defended. It is an ornament that allows us to rise in the pecking order […] focusing on the known is a human bias that extends to our mental operations. […] Just as we need to stand library logic on its head, we will work on standing knowledge itself on its head.
The declared goal of an antilibrary is, in contrast to a library, not to take pride in what you know, but amass and dive and learn to swim in the unknown.
My personal antilibrary does not stop at printed books. In my bookmark manager Raindrop.io, i amassed tens of thousands of links, mostly to articles, many of the papers and scientific texts which i might or might not read in the future. They are tagged and stored in folders ready to be found again when i need them, and they cover all of my current and former interests ranging from neuroscience and AI to the psychology of viral outrage and from animal intelligence to the mathematics of synchronizity. It's a mess and i barely manage to keep track, but that's fine: knowledge work is inherently messy and i embrace that, building rough systems of order for the larger frameworks of my thinking and letting the rest grow wild. When it comes to knowledge, i like to let the flood wash over me, and then learn to swim.
My Tsundoku pile of unread books responds to that: If i'm in the mood to buy a chunk of old scifi-books for one euro from Ebay, i will do so. I own Edmond Hamiltons cheap ass Captain Future pulp novels which reside on the same shelf as Dan Simmons sprawling literary SciFi-epics Olympos, Illium and Hyperion, right beside the books by Teilhard DeChardin. Purism has no place in knowledge work and for my thinking, i draw inspiration from where i find it, and more often than not i only skim scientific papers to mark them for "process later" or read a chapter of a book just to jump to another, where i find the inspiration to write a piece on collecting unread books and knowledge work. This is how you swim: You use every inch of water to keep afloat.
Thus, there are many stages of unreadness in my antilibrary. Some books i read a chapter a day and then switch to something else, sometimes letting them take months to finish. Sometimes i read them in a day in one big sitting.
When reading books, I mostly try to read one at a time, in concentrated sessions of one or two hours per day, sometimes more. But even when i read two or more books in parallel, as i do right now with a book on Sokrates and Arkadi & Boris Strugatzkis Stalker on my nightstand, i always eye what i will read next.
So, let's bring this meandring mess to an end and give you what the headline promises, my Tsundoku pile of unread books most likely to be read next:
There are many more titles on my Tsundoku-list, but these are likely the ones i will read this autumn. Maybe i'll throw in a short hundred pages on René Girards thinking about violence and mimesis, or maybe a fast Reacher if i'm in the mood for some dumb clobbering time, but this is the plan.
I might change my mind on a whim and the chances of readings something else entirely are better than fifty-fifty.
Knowledgework is a mess.
---
Musicvideos have their own Newsletter now:
GOOD MUSIC
. All killers and absolutely zero fillers. The latest issues featuring Slow Pulp, Truth Cult, Daughter, Enumclaw, Sløtface and many more. You can also find all the tracks from all Musicvideos in a
Spotify-Playlist
.
Subscribe to GOOD INTERNET on 

Substack

 or on 

Patreon

 or on 

Steady

 and feel free to leave a buck or two. If you don't want to subscribe to anything but still want to send a pizza or two, 

you can paypal me

.
Thanks.
😶